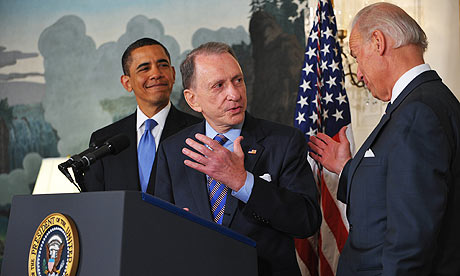 This week, Senator Arlen Specter, from my home state of Pennsylvania went back to his original roots, before he was district attorney of Philadelphia, defected to the Democratic Party. Arlen has always been a moderate/liberal republican, but I lost respect for him when he voted for the "stimulus" pork bill of 2009. What really has me furious is that a few weeks ago he stated he would stay in the republican party, because he believed in the two party system and had a bigger role in the GOP.  Now the Democrats are almost guaranteed the 60 vote filibuster proof majority  once Al Franken is confirmed in Minnesota.
Arlen Specter, only did this for a one reason, to save his own political career. He was down by more than 20 points to Pat Toomey, who Specter narrowly beat by 2 points in 2004.
 Pennsylvania republicans are sick of Specter, and they wanted him out of there. He may not even win the democratic primary as he all ready has at least one opponent possibly 3 (maybe Chris Matthews if he changes his mind again). Specter may find another "Scottish Law"  like he did in Bill Clinton's impeachment case where he won't be allowed to switch parties (although he legally can but cannot switch to another party if he looses a primary).
As a resident of PA, I say good riddance of Senator Specter, and I hope an honest politician, takes his place.
CREN